Reviews
"Having moved a LOT, we have bought and sold many homes. This was our first time buying in Florida, and the FIRST time we had a Realtor who had so much knowledge, intuition, and a wonderful ability to understand our needs. Fran found us the perfect property and we are now happily living in our 'forever' home! If our situation changes, or anyone needs a referral, we will be sure to contact Fran Swanson!" - Kerri G.

"Fran continually demonstrates how personal the sale of a home is to her. It has truly been a pleasure working with her and I would recommend her to anyone without reservation." - Michael K.

"I was in the market for a new home for my mother in different cities in South FL. I flew down from NY and viewed Fort Myers, West Palm Beach & Fort Lauderdale. Fran Swanson came recommended as my go-to person for the Fort Myers Area. Not only was Fran professional, very thorough, responded quickly to any special requests my family and I had while we were in the area viewing properties, but she is also a beautiful person. Sometimes you can just tell when someone is just genuinely a good person, and that is how Fran came across. She treated my mother and made recommendations for her, as if she were her own. She sold us on Fort Myers. Fran did her absolute best in helping us find a new home for my mother, within budget and with all the specs she needed.. And we DID find her the perfect home! Thanks for all your help with making my mother's transition a smooth one. Highly Recommended Realtor!!! - Rusty V.

"Fran is not only knowledgeable in her field, but supportive throughout the emotional process as well! Her instinct was right on. We cannot say enough about Fran - she is like a part of the family now." - Melissa B.

"Fran made a great impression the day she came to the house. She was exceptionally knowledgeable and made us feel very comfortable. During the sale process, she went out of her way to communicate with all inspectors, Realtors, appraisers, and mortgage consultants, making the sales process flow efficiently and keeping everyone doing their part to make the transaction go as smoothly as possible. We had absolutely nothing to worry about. She left no stone unturned and was there every step of the way. We couldn't have asked for more. She always went above and beyond. Words can never begin to express everything she has done for us. We would recommend her to anyone and everyone who may be looking to sell or purchase a home. If you choose Fran as your Real Estate Agent, we promise you will not regret it!" - Kathy and Tony C.

"I have had the pleasure of working with Fran twice. She is absolutely amazing. Each time I had a question, no matter the time or the day, she always answered me. She followed up on every question or concern that I had. She works hard and works for you. She is absolutely selfless and an absolute pleasure to work with. Not only is Fran a great and honest realtor, she is a fantastic woman. Thank you Fran for all that you have done for me and my family." - Terry W.

"Great Realtor, great person. Went above and beyond what was expected in helping me buy, and when I was transferred for work, sell my home. Very knowledgeable Realtor, fast responses when any questions came up. I would highly recommend Fran." - Justin N.

"Fran helped us buy our house, then sell it a few years later when we needed a larger home. She was incredibly knowledgeable about the area and things to look out for in both situations. I always felt she was there to do the very best for us and not to make money. If we ever use a Realtor again, we will definitely call Fran." - Jeffrey and Liz C.

"Fran represented me on one sale and one purchase. She jumped through hoops, climbed walls and bent over backwards to resolve all my (considerable) issues with grace and a smile." - Jonathan D.

"Fran is wonderful to work with as she is very responsive and extremely knowledgeable about the market.She made sure I understood all the steps involved and was very prompt in responding to emails and phone calls regarding any of my questions or concerns. She was very friendly and personable, she treated me like more than just a client. I highly recommend Fran for all your real estate needs!" - Natalie H.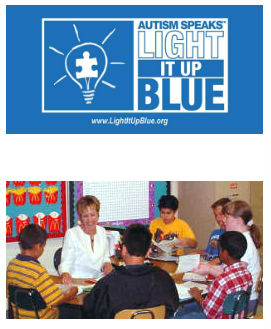 Advocating for Persons with Autism
Autism Spectrum Disorders (ASD) encompass a group of neuro-psychiatric disorders characterized by deficits in social interaction and communication, and sometimes, unusual and repetitive behavior. Some persons with autism are non-verbal. The degree of autism varies from mild to severe in different individuals. The cause (or causes) of autism are not completely understood. However, it is widely believed within the scientific community that there is a strong genetic component or pre-disposition to autism spectrum disorders. Researchers have proposed that the immunological, metabolic, and environmental factors may also play a part in the etiology of autism. Fortunately, research is advancing in this area and we are perhaps getting closer to unlocking the puzzle surrounding autism spectrum disorders. One thing is for sure, though: intense EARLY INTERVENTION, love, faith and commitment are necessary components in a positive, pro-active approach.